This site contains affiliate links to products. We may receive a commission for purchases made through these links.
Bloch MB-155
5 decal variants
1. MB-155, No. 703, GC-1, Lt. Lefeuvre, Toulouse, June 1940
2. MB-155, No. 700, first prototype, France, December 1939
3. MB-155, No. 704, CO of 1 Escadrille, Capt. Coutaud, Agen, Algeria, June 1940
4. MB-155, No. 708, GC II/8, Vichy France Air-Force, 1941
5. MB-155, JG103, Luftwaffe, France 1943
The Bloch MB.152 proved the definitive production model with nearly 500 produced. This version was powered by a Gnome-Rhone 14N-25/-49 series air cooled radial piston engine outputting at 1,100 horsepower depending on fitting. This was coupled to a three-bladed variable fixed propeller assembly. The combination supplied the aircraft with a top speed of 316 miles per hour with a range of 370 miles and service ceiling of 32,800 feet.
RS Models - 92248 - Bloch MB-155 for sale in Ebay:
1 results, showing 1.
*Note that box can be different depend on the year of production, some times wrong products appear in the results, be aware.
IMPORTANT: Note that all the responsibility about the items are of the seller, we provide results from Ebay sellers, but we don't directly sold anything. Ebay and Paypal protect you against fraudulent sellers. We try to make our provided results as much accurate as we can, but second hand sets, incomplete sets, or different sets can be listed here, so check the product in Ebay prior to purchase, ask the seller if you have any doubt, and don't buy if you haven't 100% confidence.
Bloch MB-155 Jagdflugzeug - RS Models Bausatz 1:72 - 92199 #E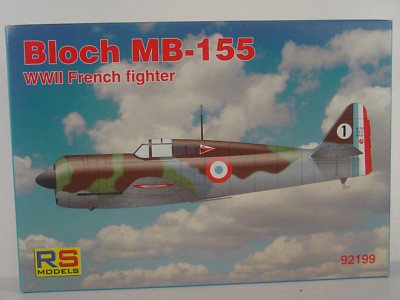 See on Ebay »
Shipping to: Worldwide
From: DE-Germany
Store: lok1000

Time Left: 26 days 1 h 51 m 29 s