Messerschmitt Me 309 V4
4 decal variants
1. Me-309 V4, Augsburg, July 1943
2. Me-309 A-2, Alternate Marking JG77, Luftwaffe 1943
3. Me-309 A-2, Alternate Marking 12.(N)/JG2, Luftwaffe 1944
4. Me-309 A-2, Alternate Marking II/JG54, Luftwaffe 1943
The Me 309 was originally designed to be the successor to the Bf 109.
First prototype V1 made a first flight on July 1942. Flighst revealed more shortcommings and a succession of modifications were made. Later was sent to be tested by E-Stelle Rechlin. November 1942 the second prototype V2 made its first nad last flight, since its nosewheel collapsed on landing. Original DB 603A-1 engine was later replaced by a DB 605B engine. In 1943 was built V3 and V4 prototype. V4 prototype being fitted with four MG 131, two MG 151/20 and two MK 108. Was planned more versions, as fighter bomber and Zerstörer with three MG 151 and four MG 131 weapons.In the autumn of 1943 the Me-309 program was terminated, four prototypes were produced.
MARKETPLACE
This site contains affiliate links to products. We may receive a commission for purchases made through these links.
RS Models 1/72 MESSERSCHMITT Me-309 V4 ZEROSTORER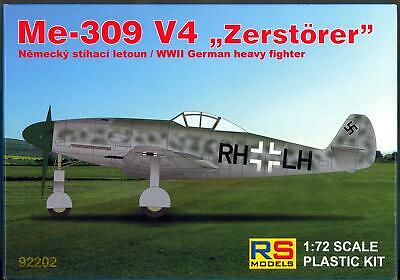 See on Ebay »
Shipping to: Worldwide
From: US-USA
Store: SCOTT'S MODEL WORKSHOP
RS Models 1/72 Messerschmitt Me-309V-4 # 92202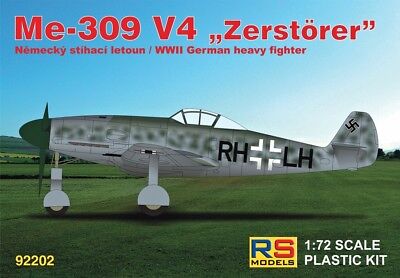 See on Ebay »
Shipping to: Worldwide
From: GB-United Kingdom
Store: Model Hobbies Limited
RS Models 1/72 Messerschmitt Me-309V-4 #92202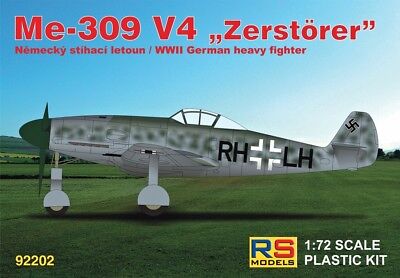 See on Ebay »
Shipping to: Worldwide
From: GB-United Kingdom
Store: Model Hobbies Limited