This site contains affiliate links to products. We may receive a commission for purchases made through these links.
Curtiss Hawk II
The Hawk II was essentially an export version of the XF11C-2 with a Wright R-1820F-3 Cyclone rated at 710hp at 1676m and 356 litres of fuel, the Hawk I differing in having only 189 litres of internal fuel. Only the Hawk II was exported in quantity, this having a mixed construction similar to that of the F11C-2 and normally carrying an armament of twin 7.62mm machine guns. The first customer for the Hawk II was Turkey, which began to take delivery of 19 on 30 August 1932, Colombia following suit from the end of October 1932 with an initial batch of four twin-float-equipped Hawk IIs. A total of 26 float fighters of this type was delivered to Colombia by the end of July 1934. Nine were supplied to Bolivia, of which three had interchangeable wheel/float undercarriages; four were delivered to Chile, 52 to China, four to Cuba, two to Germany, one to Norway and 12 to Thailand. The Curtiss Hawk II saw combat in Bolivia, China and Siam.
RS Models - 92191 - Curtiss Hawk II for sale in Ebay:
1 results, showing 1.
*Note that box can be different depend on the year of production, some times wrong products appear in the results, be aware.
IMPORTANT: Note that all the responsibility about the items are of the seller, we provide results from Ebay sellers, but we don't directly sold anything. Ebay and Paypal protect you against fraudulent sellers. We try to make our provided results as much accurate as we can, but second hand sets, incomplete sets, or different sets can be listed here, so check the product in Ebay prior to purchase, ask the seller if you have any doubt, and don't buy if you haven't 100% confidence.
CURTISS HAWK-II "BOLIVIAN VERSION" RS MODELS RESIN 1/72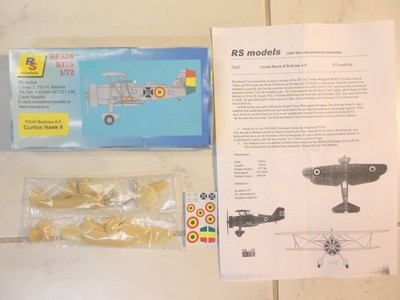 See on Ebay »
Shipping to: Worldwide
From: CA-Canada

Time Left: 6 days 11 h 47 m 37 s