This site contains affiliate links to products. We may receive a commission for purchases made through these links.
Caudron C-445 Goeland
4 decal variants
1. Caudron 445 Goéland, ZG1, Luftwaffe 1942
2. Caudron 445 Goéland, Luftwaffe, Malmi, Finland 1941
3. Caudron 445 Goéland, Luftwaffe, North Africa 1941
4. Caudron 445 Goéland, Slovakia A.F., 1943
Caudron C-455 was a conventionally configured low-wing cantilever monoplane with tailwheel undercarriage. The main undercarriage units retracted into the engine nacelles. Construction was wooden throughout, with wooden skinning everywhere but the forward and upper fuselage sections, which were skinned in metal. As usually configured, the cabin seated six passengers with baggage compartments fore and aft, and a toilet aft.
RS Models - 92174 - Caudron C-445 Goeland for sale in Ebay:
1 results, showing 1.
*Note that box can be different depend on the year of production, some times wrong products appear in the results, be aware.
IMPORTANT: Note that all the responsibility about the items are of the seller, we provide results from Ebay sellers, but we don't directly sold anything. Ebay and Paypal protect you against fraudulent sellers. We try to make our provided results as much accurate as we can, but second hand sets, incomplete sets, or different sets can be listed here, so check the product in Ebay prior to purchase, ask the seller if you have any doubt, and don't buy if you haven't 100% confidence.
CAUDRON C-445 GOELAND French , Polish , FAFL - rare 1/72° RS Models KIT 92171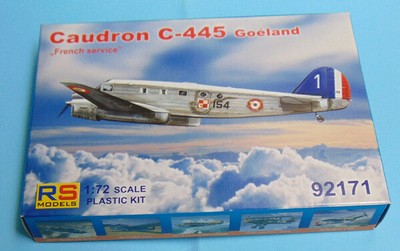 See on Ebay »
Shipping to: Worldwide
From: GR-Greece
Store: ama212mdf

Time Left: 1 day 22 h 37 m 36 s