This site contains affiliate links to products. We may receive a commission for purchases made through these links.
Yak-11 / C-11 "Moose"
4 decal variants
1. C-11, At Gebel al Basur Egypt, 1964
2. C-11, USSR, 1952
3. C-11, Bulgaria A.F. Plovdiv, 1958
4. C-11, Kimpo Airfield North Korea, 1950
The Yakovlev design bureau began work on an advanced trainer based on the successful Yak-3 fighter in mid 1944, although the trainer was of low priority owing to the ongoing Second World War. The first prototype of the new trainer, designated Yak-UTI or Yak-3UTI flew in late 1945. It was based on the radial-powered Yak-3U, but with the new Shvetsov ASh-21 seven-cylinder radial replacing the ASh-82 of the Yak-3U. It used the same all-metal wings as the Yak-3U, with a fuselage of mixed metal and wood construction. Pilot and observer sat in tandem under a long canopy with separate sliding hoods. A single synchronised UBS 12.7 mm machine gun and wing racks for two 100 kg (220 lb) bombs comprised the aircraft's armament.
RS Models - 92169 - Yak-11 / C-11 "Moose" for sale in Ebay:
3 results, showing 3.
*Note that box can be different depend on the year of production, some times wrong products appear in the results, be aware.
IMPORTANT: Note that all the responsibility about the items are of the seller, we provide results from Ebay sellers, but we don't directly sold anything. Ebay and Paypal protect you against fraudulent sellers. We try to make our provided results as much accurate as we can, but second hand sets, incomplete sets, or different sets can be listed here, so check the product in Ebay prior to purchase, ask the seller if you have any doubt, and don't buy if you haven't 100% confidence.
Lot 4-131 * RS Models 1:72 Scale kit 92169, Yak-11 / C-11 "Moose" 2-Seat Trainer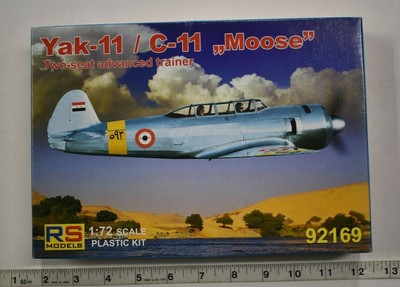 See on Ebay »
Shipping to: Worldwide
From: US-Tacoma,WA,USA
Store: Online Trains and Hobbies

Time Left: 2 days 19 h 34 m 7 s
Rs Models Rsmo92166 Yak-11 / C-11 Moose 1/72

See on Ebay »
Shipping to: Worldwide
From: FR-France
Store: Cocktail Distribution 2

Time Left:
Rs Models Rsmo92169 Yak-11 / C-11 Moose 1/72

See on Ebay »
Shipping to: Worldwide
From: FR-France
Store: Cocktail Distribution 2

Time Left: 28 days 10 h 16 m 17 s