This site contains affiliate links to products. We may receive a commission for purchases made through these links.
Mörkö-Morane
3 decal variants
1. Mörkö Morane, of 1/HLeLv 28, Värtsilä, August 1944, Finland
2. Mörkö Morane, HLeLv 21, Rissala March 1945, Finland
3. Mörkö Morane, HLeLv 21, Kesäkuu 1946, Finland
The Morane-Saulnier Mörkö was the designation given to M.S.406s and M.S.410s in Finnish service after they had been given the Klimov M-105P engine. A large number of Klimov M-105P engines had fallen into their hands, and this engine was installed in an M.S.406, matching it with the VISh-61P propeller. The M-105P was a 1,100hp development of the Hispano-Suiza 12Y engine used in the M.S.406 and was thus the same size as the engine it was replacing but the extra power significantly improved the performance of the M.S.406. The first aircraft to be converted made its maiden flight on 4 February 1943. As well as the new engine it had the oil cooler of the Bf 109G and a 20mm MG 151 cannon in the engine. After successful trials the Finns decided to bring all of their M.S.406s and 410s up to the new standard, but only two more aircraft had been completed before the Finns agreed an armistice with the Soviets. The conversion programme continued and eventually 41 Mörkös were produced. Some were armed with the 20mm MG 151 cannon and others with captured Soviet 12.7 mm machine guns.
RS Models - 92134 - Mörkö-Morane for sale in Ebay:
2 results, showing 2.
*Note that box can be different depend on the year of production, some times wrong products appear in the results, be aware.
IMPORTANT: Note that all the responsibility about the items are of the seller, we provide results from Ebay sellers, but we don't directly sold anything. Ebay and Paypal protect you against fraudulent sellers. We try to make our provided results as much accurate as we can, but second hand sets, incomplete sets, or different sets can be listed here, so check the product in Ebay prior to purchase, ask the seller if you have any doubt, and don't buy if you haven't 100% confidence.
RS MODELS 92134 Mörkö-Morane 1:72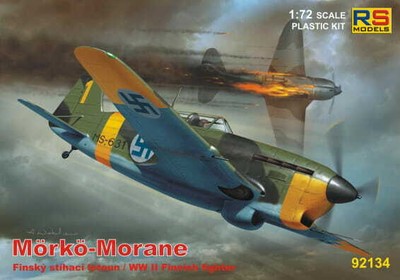 See on Ebay »
Shipping to: Worldwide
From: PL-Poland
Store: ksiazkipl

Time Left: 11 days 19 h 54 m 4 s
Rs Models Rsmo92134 Mörko Morane 1/72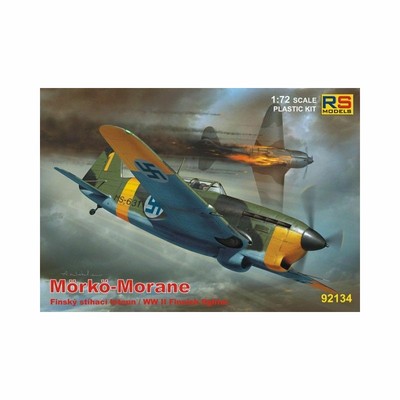 See on Ebay »
Shipping to: Worldwide
From: FR-France
Store: Cocktail Distribution 2

Time Left: 26 days 21 h 20 m 41 s