This site contains affiliate links to products. We may receive a commission for purchases made through these links.
Morane Saulnier MS.410
The M.S. 410 was an attempt to improve the firepower of the Morane Saulnier M.S. 406. That aircraft was armed with two 7.5mm machine guns and one 20mm engine mounted cannon. The M.S. 410 doubled the number of wing mounted machine guns, and replaced the drum feed using in the M.S. 406 with a more efficient belt feed. M.S. 406 No. 1028 was used as the prototype, undergoing tests in January and February 1940. As a result of the tests, an order was placed to convert 500 existing M.S.
RS Models - 92124 - Morane Saulnier MS.410 for sale in Ebay:
3 results, showing 3.
*Note that box can be different depend on the year of production, some times wrong products appear in the results, be aware.
IMPORTANT: Note that all the responsibility about the items are of the seller, we provide results from Ebay sellers, but we don't directly sold anything. Ebay and Paypal protect you against fraudulent sellers. We try to make our provided results as much accurate as we can, but second hand sets, incomplete sets, or different sets can be listed here, so check the product in Ebay prior to purchase, ask the seller if you have any doubt, and don't buy if you haven't 100% confidence.
RS Models 1/72 Morane Saulnier MS4210 French WWII Fighter Model Kit 92124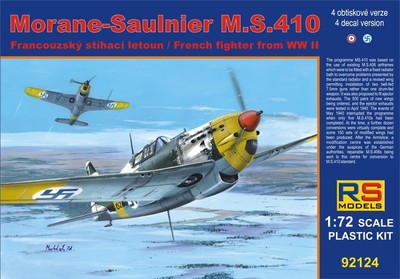 See on Ebay »
Shipping to: Worldwide
From: US-Staunton,VA,USA
Store: Jack's Model Kits

Time Left: 16 days 13 h 42 m 59 s
RS Models 1/72 - Morane Saulnier MS.410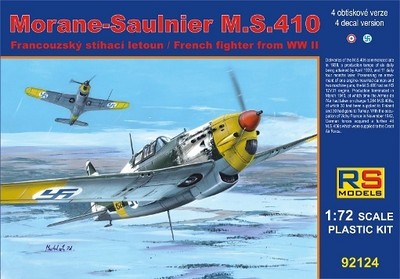 See on Ebay »
Shipping to: Worldwide
From: PL-Poland
Store: pegazos pl

Time Left: 13 days 5 h 32 m 9 s
Rs Models Rsmo92195 Morane Saulnier Ms.410 1/72

See on Ebay »
Shipping to: Worldwide
From: FR-France
Store: Cocktail Distribution 2

Time Left: 1 day 10 h 22 m 9 s