This site contains affiliate links to products. We may receive a commission for purchases made through these links.
F-4 /F-4A Lightning
5 decal variants
1. F-4A-1-LO, 3rd Photo Group, Laghouat, Algeria, April 1943
2. F-4-LO, of No 1 PRU, RAAF, Coomalie Creek, Australia, 1943
3. F-4-LO, of 8PRS, Port Moresby, 1943. Later No.75 Aq. RAAF
4. F-4C, of the 8PRG at Barrackpur, India, 1943
5. F-4A, of 1st Sgn. of GR II/33, Henri Pomigliano d'Arco, Italy, 1944
The F-4 was a purpose built photographic reconnaissance version of the P-38 Lightning, built on the production line at the same time as the P-38E and F. The P-38E featured a revised nose wheel, which provided more space for gun ammunition. The same space allowed. Ninety nine F-4-1s were built, based on the P-38E. They carried two K-17 fixed vertical cameras in place of the guns. Unlike the standard P-38E, the F-4-1 could carry external fuel tanks. The F-4-1 was the first version of the Lightning to see active service, with the 8th Photo Reconnaissance Squadron in Australia, beginning in April 1942.
RS Models - 92115 - F-4 /F-4A Lightning for sale in Ebay:
1 results, showing 1.
*Note that box can be different depend on the year of production, some times wrong products appear in the results, be aware.
IMPORTANT: Note that all the responsibility about the items are of the seller, we provide results from Ebay sellers, but we don't directly sold anything. Ebay and Paypal protect you against fraudulent sellers. We try to make our provided results as much accurate as we can, but second hand sets, incomplete sets, or different sets can be listed here, so check the product in Ebay prior to purchase, ask the seller if you have any doubt, and don't buy if you haven't 100% confidence.
Rs Models Rsmo92115 F-4/F-4 A Lightning 1/72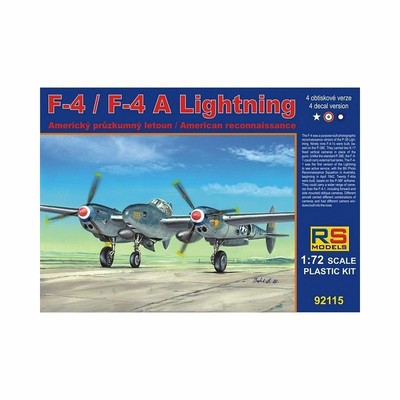 See on Ebay »
Shipping to: Worldwide
From: FR-France
Store: Cocktail Distribution 2

Time Left: 24 days 16 h 1 m 26 s