This site contains affiliate links to products. We may receive a commission for purchases made through these links.
Arado-76 in A/B
Among,the earliest specifications draw up by the C-Amt of Goring's ¨Luftfahrtkommissariat¨ was one calling for a lightweight single-seater for use emergency ¨Heimatschutzjager¨.The first prototype,the Ar 76a D-ISEN,was completed late in 1934,this being folowed in the spring of 1935 by a second prototype,the Ar 76a (D-IRAS).The general characteristics of the Ar 76 were adjudged exellent,but in the final evaluation of the designs,the Arado was placed second to the Fw 56.Nevertheless,a smal production series of aircraft was ordered as a back-up for the Fw 56 programme,and these,delivered to the Luftwaffe in the spring of 1936,were used by the Jagdfliegerschulen FFS A/B 1,FFS A/B 8,FFS A/B 23 a LKS 1 Kaufbeuern, FFS A/B 32 Chrudim.
RS Models - 92099 - Arado-76 in A/B for sale in Ebay:
3 results, showing 3.
*Note that box can be different depend on the year of production, some times wrong products appear in the results, be aware.
IMPORTANT: Note that all the responsibility about the items are of the seller, we provide results from Ebay sellers, but we don't directly sold anything. Ebay and Paypal protect you against fraudulent sellers. We try to make our provided results as much accurate as we can, but second hand sets, incomplete sets, or different sets can be listed here, so check the product in Ebay prior to purchase, ask the seller if you have any doubt, and don't buy if you haven't 100% confidence.
Rs Models Rsmo92099 Arado 76 In A/B Schulen 1/72

See on Ebay »
Shipping to: Worldwide
From: FR-France
Store: Cocktail Distribution 2

Time Left: 19 days 14 h 40 m 3 s
RS Models 1/72 scale Arado 76 German Trainer from WWII - kit#92099
See on Ebay »
Shipping to: Worldwide
From: US-Cape Coral,FL,USA
Store: Victory Models

Time Left: 2 days 4 h 28 m 47 s
1/72 Scale RS Models Arado Ar-76 German Light Fighter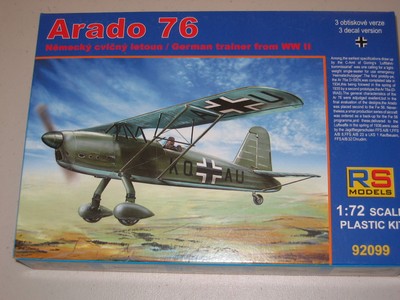 See on Ebay »
Shipping to: Worldwide
From: CA-Canada
Store: nasus1948

Time Left: 20 days 7 h 8 m 30 s