This site contains affiliate links to products. We may receive a commission for purchases made through these links.
Avia B.534 IV. What if and Zurich 1937
The prototype of B-534 flew for the first time on 25 May 1933. The first procurement order for the B-534 was issued from the Ministry of National Defence to the Avia Company on 17 July 1934 and was for 147 aircraft's. The first machines were delivered to the Air Force in autumn of 1935.
The Ministry of National Defence ordered the next, second procurement batch of 46 B-534's in 1936. The first 26 belonged to version 3 and were received by the units in March and April 1937. Before the end of 1936 the Ministry of National Defence awarded the third, largest order for the B-534. The contract was originally for 134 aircraft (s/n B-534.194 to B-534.327), but owing to the growing German menace it was increased by the fourth contract for further 50 machines (s/n B-534.328 to B-534.377). The last, fifth procurement order, placed in August 1938 was for 68 machines (s/n B-534.378 to B-534.445).
RS Models - 92080 - Avia B.534 IV. What if and Zurich 1937 for sale in Ebay:
2 results, showing 2.
*Note that box can be different depend on the year of production, some times wrong products appear in the results, be aware.
IMPORTANT: Note that all the responsibility about the items are of the seller, we provide results from Ebay sellers, but we don't directly sold anything. Ebay and Paypal protect you against fraudulent sellers. We try to make our provided results as much accurate as we can, but second hand sets, incomplete sets, or different sets can be listed here, so check the product in Ebay prior to purchase, ask the seller if you have any doubt, and don't buy if you haven't 100% confidence.
Rs Models Rsmo92080 Avia B-534 What If Markings 1/72

See on Ebay »
Shipping to: Worldwide
From: FR-France
Store: Cocktail Distribution 2

Time Left:
AVIA B-534 in "What If" Markings anche Italiano - RS Models Kit 1:72 92080 Nuovo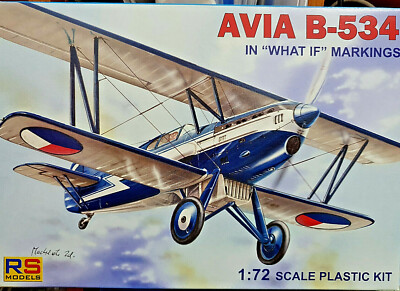 See on Ebay »
Shipping to: Worldwide
From: IT-Italy
Store: labancarellabambini

Time Left: 29 days 15 h 29 m 29 s