This site contains affiliate links to products. We may receive a commission for purchases made through these links.
Fokker D-XXIII
The D XXIII fighter was interested in employing a fore-and-aft tandem engine arrangement, the first prototype being powered by two Czechoslovak 528hp Walter Sagitta I-SR engines and flying for the first time on 30 May 1939.
Next versions of the D XXIII were also proposed with HS12Xcrs, Jumo 210G and Kestrel XV engines, and although all-metal construction was intended, the prototype was fitted with a wooden wing of greater thickness/chord ratio in order to expedite the test programme. Owing to various problems, including rear engine cooling, only four hours of flight testing had been completed when the invasion of the Netherlands brought the D XXIII development programme to a halt. The proposed armament comprised two 7.9mm and two 13.2mm FN-Browning machine guns.
RS Models - 92053 - Fokker D-XXIII for sale in Ebay:
2 results, showing 2.
*Note that box can be different depend on the year of production, some times wrong products appear in the results, be aware.
IMPORTANT: Note that all the responsibility about the items are of the seller, we provide results from Ebay sellers, but we don't directly sold anything. Ebay and Paypal protect you against fraudulent sellers. We try to make our provided results as much accurate as we can, but second hand sets, incomplete sets, or different sets can be listed here, so check the product in Ebay prior to purchase, ask the seller if you have any doubt, and don't buy if you haven't 100% confidence.
Rs Models Rsmo92053 Fokker D-Xxiii 1/72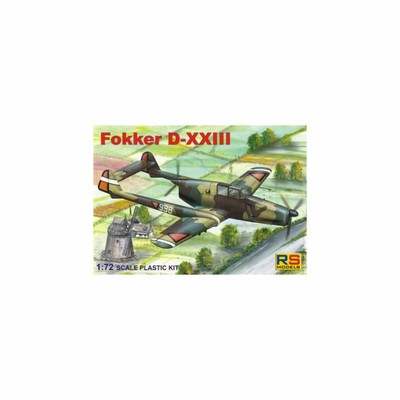 See on Ebay »
Shipping to: Worldwide
From: FR-France
Store: Cocktail Distribution 2

Time Left: 7 days 7 h 28 m 8 s
RS MODELS 1/72 FOKKER D-XXIII Model Airplane New Free Shipping 92053 Rare!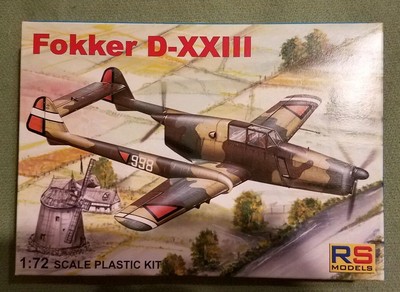 See on Ebay »
Shipping to: Worldwide
From: US-Rio Rancho,NM,USA

Time Left: 10 days 20 h 45 m 32 s