MiG-21F(Izdeliye "72") Soviet supersonic fighter
The MiG-21F (Izdeliye "72") was light single-seat fighter aircraft, designed in the late 50's as a further development of MiG-21. The aircraft passed flight tests in 1959 and despite of it's unsatisfied flight performance, MiG-21F was put into service. The same year it's serial manufacturing began at "Aviation Plant 21", named after Sergo Ordzhonikidze in Gorky. The MiG-21F was powered by an R11F-300 turbojet engine, using 2160 liters of fuel, accomodated in six internal fuel tanks and 490 liters in one droppable external tank under the fuselage. Due to its specific take-off and landing capabilities, MiG-21F was able to be operated from second class airfields and from unpaved aerodromes. The aircraft was armed with two belly-mounted 30-mm NR-30 cannons.The fighter was also capable of carrying bombs and missiles on 2 wing pylons. First ten fighters were built in 1959, another 79 MiG-21F were produced till the end 1960-s by the "Aviation Plant 21".
MARKETPLACE
This site contains affiliate links to products. We may receive a commission for purchases made through these links.
ModelSvit 72021 Airplane MIG-21F frontline fighter 1/72 scale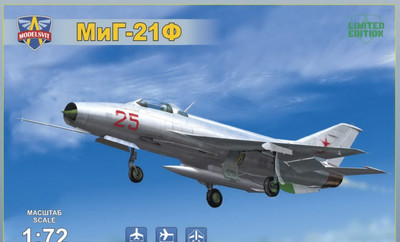 See on Ebay »
Shipping to: Worldwide
From: UA-Ukraine
Store: vladbush63
ModelSvit 72021 - 1/72 – Airplane frontline MIG-21F fighter plastic model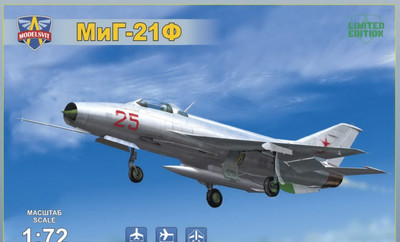 See on Ebay »
Shipping to: Worldwide
From: UA-Ukraine
Store: scalemodelkits
ModelSvit 72021 - Airplane MIG-21F frontline fighter 1/72 scale plastic model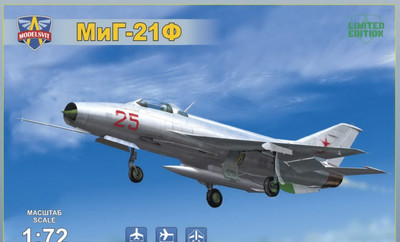 See on Ebay »
Shipping to: Worldwide
From: UA-Ukraine
Store: Hobby Jar Super Store
Airplane frontline MIG-21F fighter 1/72 ModelSvit 72021
28.78 +8.90USD
Shipped by Plastic Models Store, from $8.90, free over $150 orders
In Stock