Hurricane Mk II b/c
(Expert Set)
Model includes plastic sprue from Mk IIc and a new plastic sprue with wings for Mk IIb, underwing stores (bombs and fuel tanks) and early variant of tail wheel and exhaust manifold. Set provides parts needed to build Hurricane Mk IIb/c as appeared in 1941-44, including "Hurribomber" and "Intruder" configuration.
Set also contains new, clear parts sprue (thinner canopy). It is a new tool made after previous one broken.
Box contents:
Two plastic sprues plus clear parts
Photoetched parts
Canopy and wheel masks
Six markings options (3xMk IIb and 3xMk IIc)
Markings Options:
Hurricane Mk. IIb "Hurribomber", BE682/XP-R, "Mauritius VII", 174 Squadron RAF, Manston, Summer 1942.
Hurricane Mk. IIb, Z3675/WX-B, 302 Squadron PAF, Church Stanton, August 1941.
Hurricane Mk. IIb trop "Hurribomber", HL795/V, 274 Squadron RAF, Sidi Haneish (Egipt) i Sidi-Bu Amud (Libia), November 1942.
Hurricane Mk. IIc "Night Intruder", BE581/JX-E, 1 Squadron RAF, Tangmere, May 1942, pilot F/L Karel Kuttelwascher.
Hurricane Mk. IIc, MW367/DR-B, "Jessie", 1697 Flight, Air Despatch Letter Service, Northolt, June 1944.
Hurricane Mk. IIc trop "Hurribomber", LB792/C, 34 Squadron RAF/SEAC, Dergaon (Assam) i Imphal (Manipur), Spring 1944, pilot S/Ldr C.P.N. Newman.
MARKETPLACE
This site contains affiliate links to products. We may receive a commission for purchases made through these links.
Arma Hobby 1/72 British Hurricane MK.II B./C Expert Set 70042

See on Ebay »
Shipping to: Worldwide
From: US-Burbank,CA,USA
Store: burbankshouseofhobbies
Arma Hobby 70042 Hurricane Mk.II B/C Expert Set scale 1/72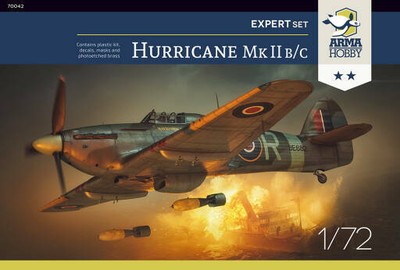 See on Ebay »
Shipping to: Worldwide
From: PL-Poland
Store: fieofanowicz1971
Arma Hobby 70042 Hurricane Mk.II B/C Expert Set scale 1/72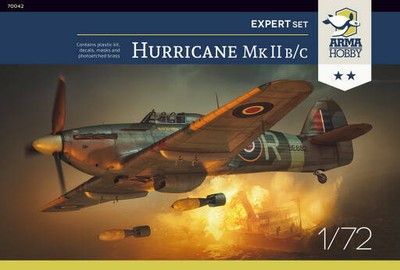 See on Ebay »
Shipping to: Worldwide
From: PL-Poland
Store: fieofanowicz1971