Ye-50 experimental interceptor with rocket engine
In 1953 the Soviet authorities issued a requirement for a Mach 2 clear-weather interceptor with limited ground-attack capability. At this time the USSR's Central Aerodynamics and Hydrodynamics Institute had arrived at two basic configurations for aircraft of the required performance level. Both were based on a cylindrical fuselage with a swept all-moving tailplane and a wing in the low mid-set position, but the difference came in the wing itself. One was a conventional type with a leading-edge sweep of between 58 deg and 62 deg, and other a delta with 57 deg or 58 deg leading-edge sweep. The MiG bureau produced prototypes in both configurations. The Ye-50 and Ye-4. Designed around a Tumansky AM-9Ye (RD-9Ye) turbojet with an afterburning thrust of 3800kg and a Dushkin S-155 bi-fuel rocket motor of 1300kg, the first of three prototypes, the Ye-50/1, flew on 9 January 1956. It began trials with the rocket motor on 8 June 1956.
The original Ye-50 can be regarded as a pre-prototype, for in the absence of the planned Tumanskii R-11 turbojet it was fitted with an interim composite power plant comprising an RD-9Ye afterburning turbojet and an S-155 rocket engine; the aeroplane had swept conventional wings based on those of the MiG-19.
MARKETPLACE
This site contains affiliate links to products. We may receive a commission for purchases made through these links.
1/72 MiG E-50 (Ye-50) experimental interceptor (A&A Models 7223)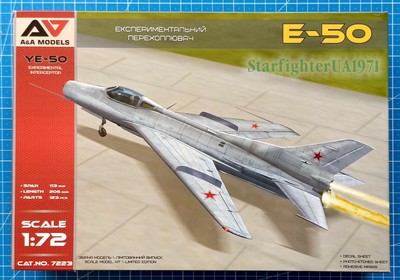 See on Ebay »
Shipping to: Worldwide
From: UA-Ukraine
Store: UA-Hobby

Time Left:
A&A Models 7223 1:72nd scale Ye-50 Experimental interceptor with Rocket engine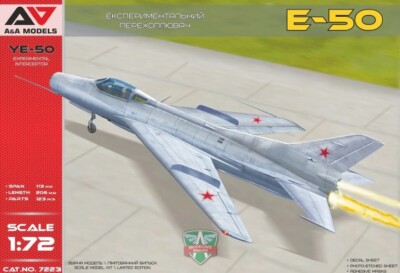 See on Ebay »
Shipping to: Worldwide
From: GB-United Kingdom
Store: Dave Coley's Emporium

Time Left: 25 days 7 h 32 m 1 s
A & A Models 1/72 Ye-50 Experimental Interceptor # 7223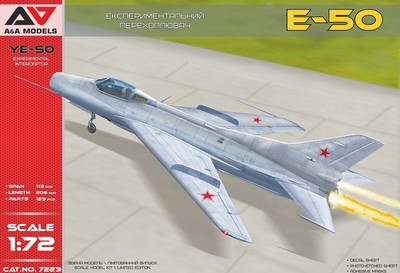 See on Ebay »
Shipping to: Worldwide
From: GB-United Kingdom
Store: Model Hobbies Limited

Time Left: 18 days 7 h 39 m 4 s