This site contains affiliate links to products. We may receive a commission for purchases made through these links.
Set include 24 hard-plastic multi part figures. In their own words.Our Valiant Paratroops are modeled on the troops that took part in the assault on Crete in 1940. This means our versatile figures have a mixture of early and late pattern smocks and separate heads have the distinctive paratrooper helmet cover. Six of the eight poses are armless figures that can either be equipped with the various weapons options in the set (MP 40 sub machine guns, MG 34 machine guns or KAR 98 rifles) or late war weaponry from the Classic German Infantry and Germans in Normandy sets can be added to convert the figures into elite mid/late war ground troops.
Valiant - VM006 - German Paratroops for sale in Ebay:
3 results, showing 3.
*Note that box can be different depend on the year of production, some times wrong products appear in the results, be aware.
IMPORTANT: Note that all the responsibility about the items are of the seller, we provide results from Ebay sellers, but we don't directly sold anything. Ebay and Paypal protect you against fraudulent sellers. We try to make our provided results as much accurate as we can, but second hand sets, incomplete sets, or different sets can be listed here, so check the product in Ebay prior to purchase, ask the seller if you have any doubt, and don't buy if you haven't 100% confidence.
Valiant Miniatures 1/72 VM-006 WWII German Paratroops (24 Figures)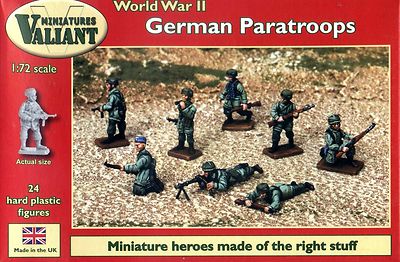 See on Ebay »
Shipping to: Worldwide
From: TW-Taiwan
Store: AlwaysModel

Time Left: 21 h 2 m 9 s
Valiant - German Paratroops - 1:72 - VM006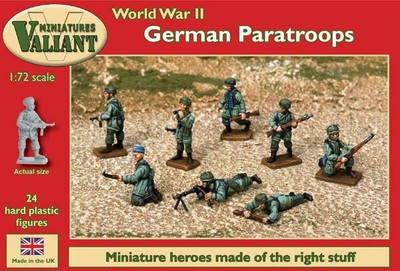 See on Ebay »
Shipping to: Worldwide
From: IT-Italy
Store: Aster WarGame

Time Left:
Valiant - German Paratroops - 1:72 - VM006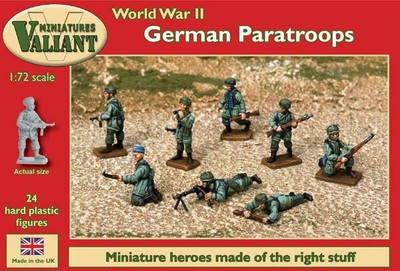 See on Ebay »
Shipping to: Worldwide
From: IT-Italy
Store: Aster WarGame

Time Left: