This site contains affiliate links to products. We may receive a commission for purchases made through these links.

Battle of Waterloo 1815 – 200 Years anniversary
In the year of the bicentenary Revell bring us a re-pack of some of their Waterloo 1815 figures kits. The box contains 107 figures, between Prussian and French infantry and British Life Guards cavalry. Nothing new but you can save some Euro picking these three boxes at once.
The 18 June 2015 hails the 200th anniversary of the Battle of Waterloo. Napoleon Bonaparte's last battle of took place near the village of Waterloo (located in present-day Belgium). The defeat of the French Troops led by Napoleon by the Allied Troops and their Prussian allies led to the end of the First French Empire. Napoleon himself was taken prisoner of war by the British and sent into exile on the Atlantic island of St. Helena where he eventually died. Even today, the term Waterloo is used to describe a crushing defeat or setback.
Established at the time of the English Restoration in the 17th century the Life Guards ranked as the best unit in the British Cavalry. Blue was the traditional colour of the Prussian Infantry uniform. A Regiment of Prussian infantry consisted of two Musketeer and one Fusilier Battalions to which two Grenadier Companies were added. The Grenadiers of the Old Guard represented the elite of the Napoleonic infantry. Formed from selected soldiers who were better equipped and paid than regular infantry, they were always loyal to the Emperor.
Revell - 02450 - Battle of Waterloo 1815 - 200 Years anniversary for sale in Ebay:
2 results, showing 2.
*Note that box can be different depend on the year of production, some times wrong products appear in the results, be aware.
IMPORTANT: Note that all the responsibility about the items are of the seller, we provide results from Ebay sellers, but we don't directly sold anything. Ebay and Paypal protect you against fraudulent sellers. We try to make our provided results as much accurate as we can, but second hand sets, incomplete sets, or different sets can be listed here, so check the product in Ebay prior to purchase, ask the seller if you have any doubt, and don't buy if you haven't 100% confidence.
Revell - Battle Of Waterloo 1815 200 Years (1:72)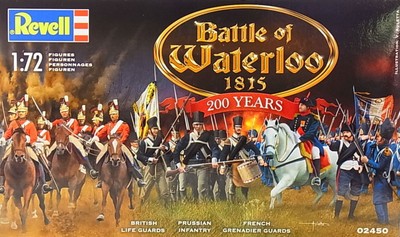 See on Ebay »
Shipping to: Worldwide
From: US-Freeport,NY,USA
Store: lisbesthobby

Time Left: 23 days 20 h 16 m 58 s
Revell Model Military Figures 1:72 Scale Choice of Model Kits
See on Ebay »
Shipping to: Worldwide
From: GB-United Kingdom
Store: Model Realm

Time Left: 15 h 21 m 21 s