This site contains affiliate links to products. We may receive a commission for purchases made through these links.

US Infantry Heavy Weapons 1944-45
57 hard plastic 1/72nd miniatures and 18 models depicting WW2 Late War US infantry heavy weapons as follows:
3 M1917 machine gun teams
3 M1919 0.30 cal machine gun teams
3 M2 Browing machine gun teams
3 60mm mortar teams
3 81mm mortar teams
3 4.2 inch mortar teams
3 Bazooka teams
Plastic Soldier - WW2020007 - US Infantry Heavy Weapons 1944-45 for sale in Ebay:
3 results, showing 3.
*Note that box can be different depend on the year of production, some times wrong products appear in the results, be aware.
IMPORTANT: Note that all the responsibility about the items are of the seller, we provide results from Ebay sellers, but we don't directly sold anything. Ebay and Paypal protect you against fraudulent sellers. We try to make our provided results as much accurate as we can, but second hand sets, incomplete sets, or different sets can be listed here, so check the product in Ebay prior to purchase, ask the seller if you have any doubt, and don't buy if you haven't 100% confidence.
Plastic Soldier Company WW2 US Infantry Heavy Weapons 1/72 scale 20mm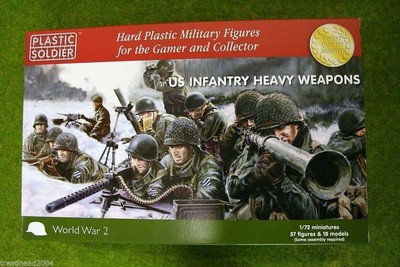 See on Ebay »
Shipping to: Worldwide
From: GB-United Kingdom
Store: Arcane Scenery and Models

Time Left: 27 days 21 h 14 m 16 s
Plastic Soldier WW2020007 - US Infantry heavy weapons - 1:72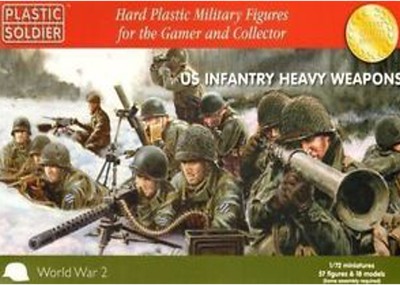 See on Ebay »
Shipping to: Worldwide
From: IT-Italy
Store: Aster WarGame

Time Left: 11 days 18 h 58 m 20 s
Plastic Soldier WW2020007 - US Infantry Heavy Weapons - 1:72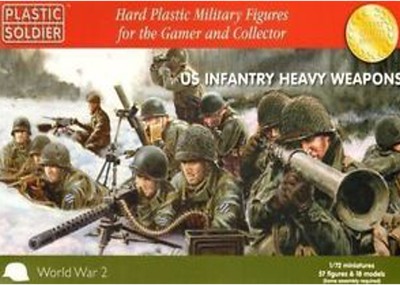 See on Ebay »
Shipping to: Worldwide
From: IT-Italy
Store: Aster WarGame

Time Left: 13 days 45 m 53 s