A re-release of a beautiful old ESCI set. During a long time it have been the only (and remains so) Nebelwerfer set which included crew in the range of the major manufacturers in the small scale. Today you can find some other models (Such S-Model) but not other crews (except Nitto/Fujimi 1/76 ones, even if this one is not a very good one), you must find in resin or metal minor ranges to fill this gap in the scale. We are happy to see this reissue, it means than old sets will not be longer sold by 30$ in Ebay.
Set contains two Nebelwerfer 41 guns, some munition and 12 hard plastic figures in 5 different poses. Note than they are splited in several parts (not much) so some variation/modification is allowed.

"The Nebelwerfer was an extremely effective weapon that flanked,during the Second World War, the artillery troops of German Army. The 15 cm Nebelwerfer 41 was probably one of the versions with highest rate of production and use. It was built by a six-tube rocket launcher and it was able to use gas, smoke and high-explosive warheads.It was mounted on a towed carriage adapted from that used by the Pak 36 ,able to provide a good mobility and flexibility of use. The 15 cm NbW 41 has a range of almost 7,000 meters."
MARKETPLACE
This site contains affiliate links to products. We may receive a commission for purchases made through these links.
Italeri 15 cm. Nebelwerfer 41 with Crew 1:72 Scale Model Kit #7071 NIB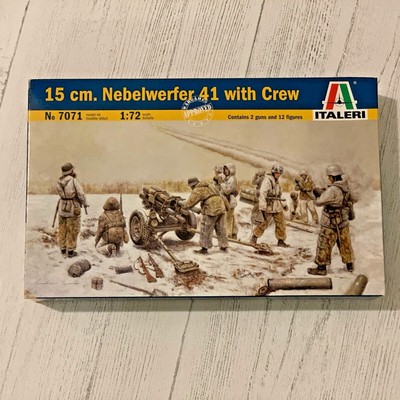 See on Ebay »
Shipping to: Worldwide
From: US-Midlothian,VA,USA
Store: Nifty-Thrifty RVA
Italeri 1/72 15cm Nebelwerfer 41 w/ Crew Plastic Model Kit 7071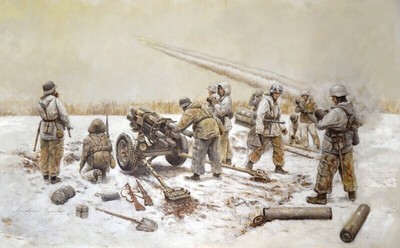 See on Ebay »
Shipping to: Worldwide
From: US-Saint Charles,MO,USA
Store: Mark Twain Hobby Center
Italeri 15cm Nebelwerfer 41 w/Crew 1:72 ITA7071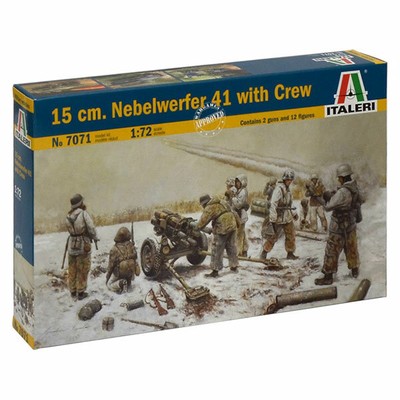 See on Ebay »
Shipping to: Worldwide
From: US-Columbia,MD,USA
Store: hobby-usa