This site contains affiliate links to products. We may receive a commission for purchases made through these links.
Caudron C-445
4 decals variants.
1. Caudron 445 Goéland, Aeronavalé, Vichy France, July 1940
2. Caudron 445 Goéland, Aeronavalé, Fréjus St.-Raphael, V. France 1942
3. Caudron 445 Goéland, LAPE Lineas Aereas Postales Esp., Spain 1937
4. Caudron 445 Goéland, Aeroput Airlines, Yugoslavia 1941
Letoun vznikl na základě požadavku na rychlý, ekonomický a pohodlný dopravní letoun. První C.440 vzlétl v 17. června 1935 a už první zkoušky potvrdily jeho mimořádně zda%
RS Models - 92178 - Caudron C-445 for sale in Ebay:
3 results, showing 3.
*Note that box can be different depend on the year of production, some times wrong products appear in the results, be aware.
IMPORTANT: Note that all the responsibility about the items are of the seller, we provide results from Ebay sellers, but we don't directly sold anything. Ebay and Paypal protect you against fraudulent sellers. We try to make our provided results as much accurate as we can, but second hand sets, incomplete sets, or different sets can be listed here, so check the product in Ebay prior to purchase, ask the seller if you have any doubt, and don't buy if you haven't 100% confidence.
RS Models 1/72 Model Kit 92239 Caudron C-445/C-448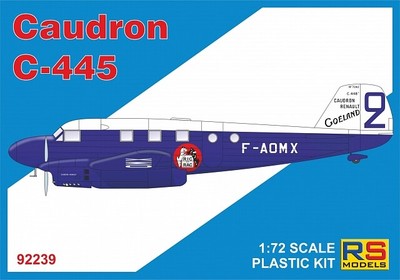 See on Ebay »
Shipping to: Worldwide
From: GB-United Kingdom
Store: Oxonians

Time Left: 20 days 16 h 10 m 10 s
CAUDRON C-445 GOELAND French , Polish , FAFL - rare 1/72° RS Models KIT 92171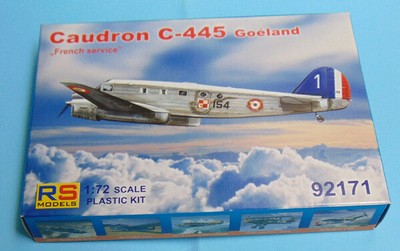 See on Ebay »
Shipping to: Worldwide
From: GR-Greece
Store: ama212mdf

Time Left: 6 days 17 h 50 m 30 s
RS Models 1/72 Model Kit 92239 Caudron C-445/C-448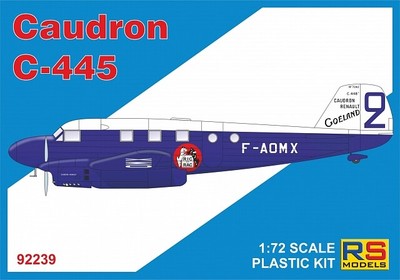 See on Ebay »
Shipping to: Worldwide
From: GB-United Kingdom
Store: Oxonians

Time Left: 20 days 21 h 39 m 51 s