This site contains affiliate links to products. We may receive a commission for purchases made through these links.
Ryan NYP "Spirit of St.Louis"
4 decal variants
1. Ryan, Charles A. Lindberg, First crossing of the Atl., May 20, 1927
2. Ryan, Charles A. Lindberg, Latin American Goodwill Tour, 1928
3. Ryan, Mainichi Shimbun / Japanese newspaper /, 1928
4. Ryan, Mainichi Shimbun / Japanese newspaper /, 1927
Officially known as the Ryan NYP (for New York to Paris), the single engine monoplane was designed by Donald A. Hall of Ryan Airlines and was named The Spirit of St. Louis in honor of Lindbergh's supporters from The St. Louis Raquette Club in his then hometown of St. Louis, Missouri. To save design time, the NYP was loosely based on the company's 1926 Ryan M-2 mailplane with the main difference being the 4,000 mile range of the NYP, and as a non-standard design the Government assigned it the registration number N-X-211 (for "experimental"). Hall documented his design in "Engineering Data on the Spirit of St. Louis" which he prepared for the National Advisory Committee for Aeronautics (NACA) and is included as an appendix to Lindbergh's 1953 Pulitzer Prize winning book, The Spirit of St. Louis.
RS Models - 92158 - Ryan NYP "Spirit of St.Louis" for sale in Ebay:
1 results, showing 1.
*Note that box can be different depend on the year of production, some times wrong products appear in the results, be aware.
IMPORTANT: Note that all the responsibility about the items are of the seller, we provide results from Ebay sellers, but we don't directly sold anything. Ebay and Paypal protect you against fraudulent sellers. We try to make our provided results as much accurate as we can, but second hand sets, incomplete sets, or different sets can be listed here, so check the product in Ebay prior to purchase, ask the seller if you have any doubt, and don't buy if you haven't 100% confidence.
Rs Models Rsmo92158 Ryan Nyp Spirit Of St. Louis 1/72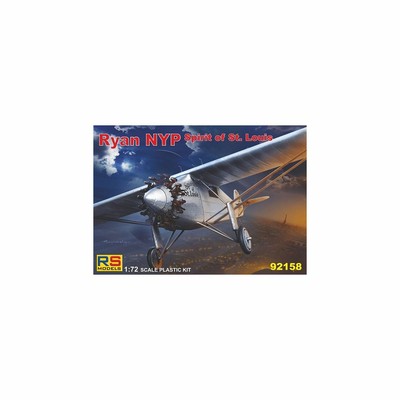 See on Ebay »
Shipping to: Worldwide
From: FR-France
Store: Cocktail Distribution 2