This site contains affiliate links to products. We may receive a commission for purchases made through these links.
Airspeed Envoy Cheetah engine
Pilot and eight-passenger enlarged and twin-engined development of the AS.5 Courier. First flown on 26 June 1934. About 50 built by Airspeed for British, Japanese, Czechoslovakian, Chinese and South African civil operators, plus a small number for the South African Air Force and the RAF (SAAF Envoys carrying bombs and one forward-firing and one dorsal-turreted machine-gun). Mitsubishi also built a number under licence. Engines fitted to Envoys included the Wolseley AR.9, Scorpio I or Aries III, Armstrong Siddeley Lynx IVC or Cheetah IX, Wright Whirlwind R.760 and Walter Castor II.
RS Models - 92095 - Airspeed Envoy Cheetah engine for sale in Ebay:
3 results, showing 3.
*Note that box can be different depend on the year of production, some times wrong products appear in the results, be aware.
IMPORTANT: Note that all the responsibility about the items are of the seller, we provide results from Ebay sellers, but we don't directly sold anything. Ebay and Paypal protect you against fraudulent sellers. We try to make our provided results as much accurate as we can, but second hand sets, incomplete sets, or different sets can be listed here, so check the product in Ebay prior to purchase, ask the seller if you have any doubt, and don't buy if you haven't 100% confidence.
Airspeed Envoy /RS models/ 1/72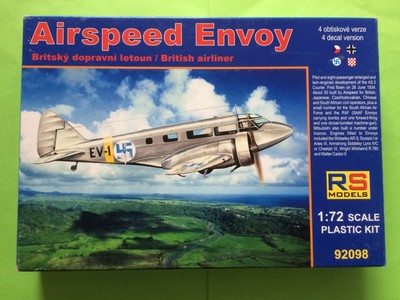 Bids:0

See on Ebay »
Shipping to: Worldwide
From: CZ-Czech Republic

Time Left: 4 days 18 h 50 m 43 s
RS Models 1:72 Airspeed Envoy British Airliner Plastic Model Kit #92095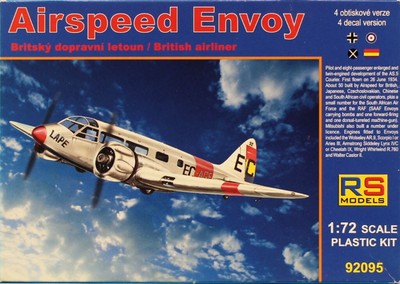 See on Ebay »
Shipping to: Worldwide
From: US-Wentzville,MO,USA
Store: LotsofModels

Time Left: 20 days 7 h 31 m 4 s
Rs Models Rsmo92095 Airspeed Envoy, Cheetah Engine 1/72

See on Ebay »
Shipping to: Worldwide
From: FR-France
Store: Cocktail Distribution 2

Time Left: 20 days 13 h 55 m 54 s