This site contains affiliate links to products. We may receive a commission for purchases made through these links.
Avia Bš.122
Training aerobatics airplane powered Walter Castor II engine. Was produced in quantity 45 pieces for the Czechoslovakian Army. Prototype flew for the first time 11. August 1936 with pilot O. Košař. From 5.11.36 into 26.7 1937 was passed into VTLU in Letnany where absolved on the whole 365 flight. Series airplane was based to training wing air regiment nr.4 in Hradec Králové and into VLU in Prostějov and Cheb. Up fission republic and occupation on March 1939 stay airplane Bš.122.27 and 44 on Slovakia. In year 1940 to they be in Germany purchased next four machines, 122.11,12 and 122.37 and 39. Was with that using to training, evidently near air school in Trenčín. Further 12 machines was German sold into Bulgaria, where with used too training. Some machines was flown also to training role by Luftwaffe.
RS Models - 92069 - Avia Bš.122 for sale in Ebay:
2 results, showing 2.
*Note that box can be different depend on the year of production, some times wrong products appear in the results, be aware.
IMPORTANT: Note that all the responsibility about the items are of the seller, we provide results from Ebay sellers, but we don't directly sold anything. Ebay and Paypal protect you against fraudulent sellers. We try to make our provided results as much accurate as we can, but second hand sets, incomplete sets, or different sets can be listed here, so check the product in Ebay prior to purchase, ask the seller if you have any doubt, and don't buy if you haven't 100% confidence.
RS Models 1:72 Avia Bs-122 Model Kit #92069U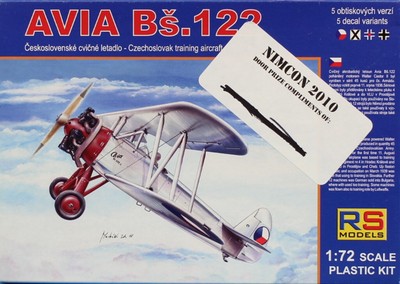 See on Ebay »
Shipping to: Worldwide
From: US-Wentzville,MO,USA
Store: LotsofModels

Time Left: 24 days 17 h 42 m 33 s
Rs Models Rsmo92069 Avia B?-122 Trainer 1/72

See on Ebay »
Shipping to: Worldwide
From: FR-France
Store: Cocktail Distribution 2

Time Left: 14 days 45 m 34 s