Junkers Ju 86 P
In 1940, the prototype of the Ju 86P first flow, designed to be a high altitude aircraft, it was found that during trails it could reach a height of 12000m. The Luftwaffe pleased with this new variant, ordered forty of the older models to be converted to the Ju 86P-1 bomber and Ju 86P-2 reconnaissance versions. The P-2 had its cameras installed in the bomb-bay and was used immediately on reconnaissance missions over the England at heights of 12500m. During this time they remained totally undetected. Because of the height in which they could fly, the Ju86Ps were immune to fighter attack, that was until a specially modified Spitfire Mk V shot one down north of Cairo, Egypt. A single aft-firing machine gun was quickly installed, this however, did not stop another two aircraft being shot down. In 1943 Ju 86Ps were withdrawn from service. Converted from the P variant, the Ju 86R-1 was the next reconnaissance model. With a 32m wing span it could reach a altitude of 14400m. This variant was fitted with just two cameras. These remained in service flying reconnaissance missions until the summer of 1944.
MARKETPLACE
This site contains affiliate links to products. We may receive a commission for purchases made through these links.
Junkers Ju 86 P 1/72 RS Models rar selten ovp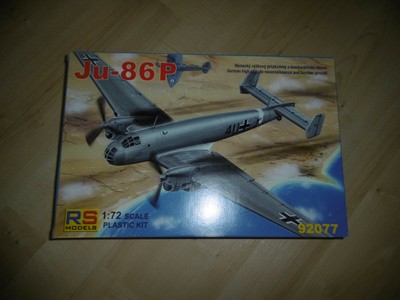 See on Ebay »
Shipping to: Worldwide
From: DE-Germany
Store: Rudolfs Bird Models
*Information on price and shipping may have changed since our last update as well as other conditions can apply.
Check on partner site before buy.
Amazon and the Amazon logo are trademarks of Amazon.com, Inc. or its affiliates.